Configure IAM service database
The IAM services uses a Domino database for storing it's own data. These steps create and configure this database from a template.
Copy template to the Domino data directory

The IAM installation comes with a database template. Copy the IAM template database to the Domino server data directory.
c:\iam>copy template\iam-store.ntf "c:\Program Files\HCL\Domino\Data"
        1 file(s) copied.

Create the IAM store database

Using the Administration client,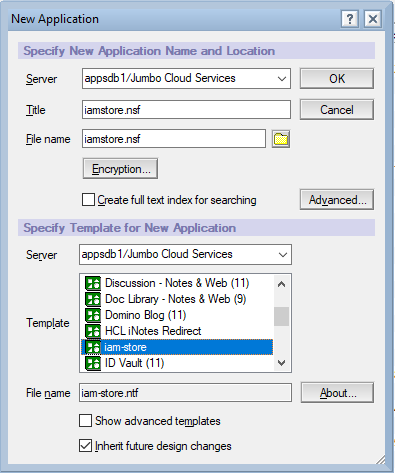 Configure access control to IAM store database

Add the IAM functional ID to the Access Control list. Set the following properties:
Set User type to "Unspecified".
Set Access to "Manager".
Enable "Delete Documents" access.
Enable "_ReadAllItems role.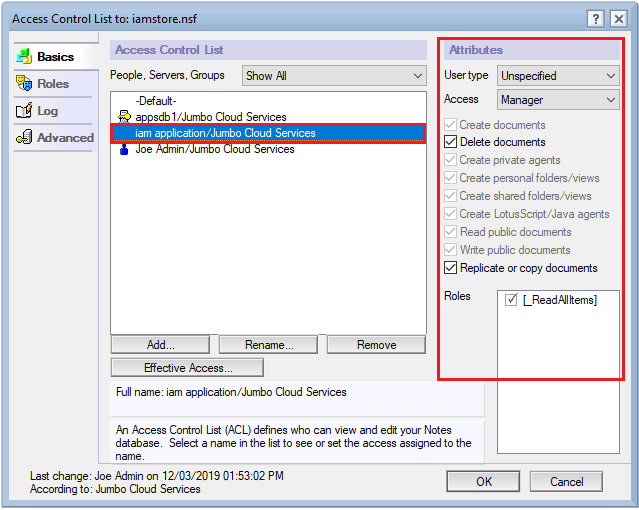 Sign IAM store database

The IAM store contains a scheduled agent which periodically removes stale data from the database. This agent is signed by Lotus Notes Template Development/Lotus Notes and needs to be resigned with a user that can run scheduled agents on the Domino server. Execute the following actions with the Administration Client to Sign the IAM store database: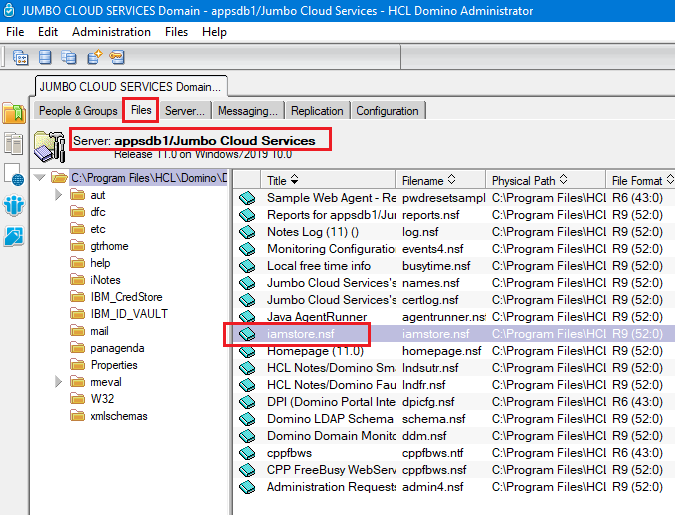 Open the "Files" tab on your Domino server. Select the iamstore.nsf database and right click. Select the Sign... option.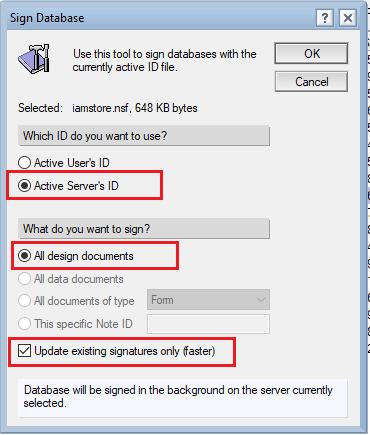 Select the following options:
Active Server's ID
All design documents
Update existing signatures
Click OK
Ensure DQL Indexes are updated

Using the Domino server console, execute the following command to update the DQL catalog in the IAM store database:
 load updall -e iamstore.nsf


[1448:0002-1474] 12/05/2019 08:08:40 AM  Index update process started:  -e iamstore.nsf
[1448:0002-1474] 12/05/2019 08:08:40 AM  Updating views in C:\Program Files\HCL\Domino\Data\iamstore.nsf
[1448:0002-1474] 12/05/2019 08:08:40 AM  iamstore.nsf harvested, 0 catalog documents removed, 22 view designs or aliases cataloged out of 12 total with 1 field-usable columns 20.212 msecs and LastModified of 12/05/2019 08:04:51 AM
[1448:0002-1474] 12/05/2019 08:08:40 AM  Index update process shutdown